By Joel Suárez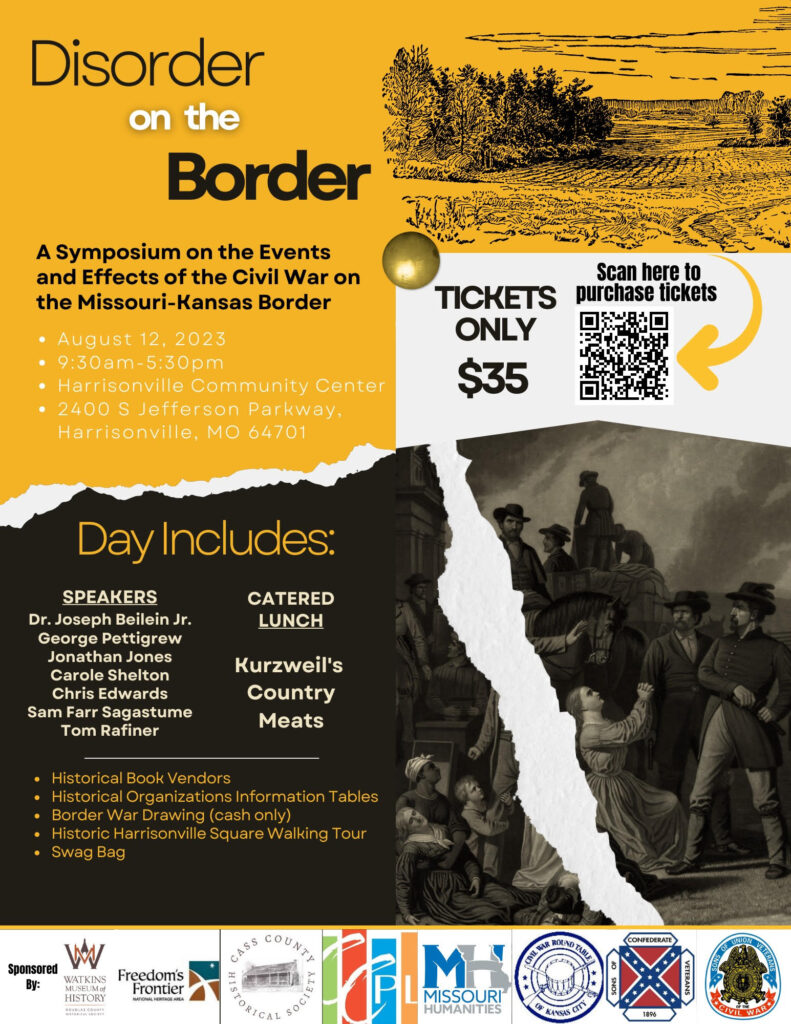 In 1863, Union General Thomas Ewing, Jr. issued Order No. 11 that led to the forced abandonment of homes and destruction of property for many people living in Cass, Bates, Jackson, and Vernon counties during the height of the Civil War. Now, on the 160th anniversary of Order No. 11, Cass County Historical Society (CCHS) is partnering with the Watkins Museum of History, the Cass County Public Library – Genealogy Branch, the Freedom's Frontier National Heritage Area, and the Civil War Roundtable of Kansas City to bring a symposium that brings all-new perspectives to the event that impacted generations of Missourians. This full-day event on August 12th, 2023, will be hosted inside the Harrisonville Community Center's Jefferson Courtyard, fittingly right in the heart of Order No. 11's "Burnt District", running from 09:30AM – 05:30PM. With your ticket, you will have the chance to hear from many distinguished experts on the subject, both locally- and nationally-based, as they bring insight into the "Disorder on the Border", including:
Dr. Joseph M. Beilein, Jr., Origins of a Guerrilla Chief: The Disordered Life of William Clarke Quantrill, in the Antebellum Borderlands
Jonathan 'Jon' Jones, Quantrill's Raid of Olathe (KS)

Carole Shelton

, Portraits of African-American Women in MO; Before, During, and After the Civil War
Tom Rafiner, Cinders and Silence: Remembrance – 160 Years

George Pettigrew

, From Slave to Soldier: The Right to Fight

Sam Farr

, Letha's Legacy: A Story of Intergenerational Trauma

James C. 'Chris' Edwards

, What Really Happened? Quantrill's Raid on Lawrence, Kansas: Revisiting the Evidence
Several of these presenters have also made their mark as authors, and their respective publications will be available for purchase on the day of the event. At the end of the event, participants are also welcome to join a historical walking tour of the Harrisonville Square. Tickets are $35, and include everything listed above, as well as a delicious lunch provided by Kurzweil's Country Meats.